The Chesham Society: Celebrating 65 Years
St Mary's Church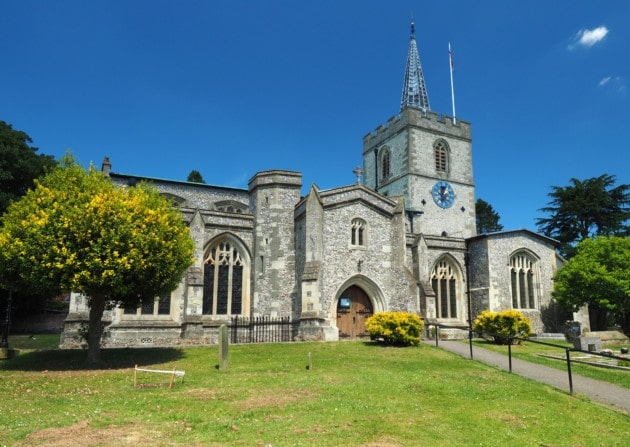 In the mid-1990s the Chesham Society was deeply involved in a protracted and very public argument over the provision of new facilities at the Parish Church. St Mary's has stood on the rise overlooking the Town since at least the thirteenth century and in the intervening time it has grown and changed its appearance. Today it is Chesham's only Grade I listed building.
By the late-1980s it was being increasingly used as a venue for concerts and there was a need for a proper kitchen, toilets and other facilities. The Church Rooms were inadequate and inconveniently located down the hill, on Church Street and the Parochial Church Council (the PCC) was considering how these facilities could be brought on site. The Church's congregation learned, at a meeting in October 1994, that an architect had been commissioned to build an extension to the fine fifteenth century west front. Alarm bells rang among the Society's committee.
The Society strongly believed that an extension on the Church's west front would ruin its appearance and, because the extension would impinge on the car park, extending the parking area would impact on the graveyard, too. The Society drew up its own proposal (and later detailed plans to support the proposal, which led to a formal application to the Council) to put the extension on the north side of the building.
Simply opposing the application was felt to be inadequate so the Society persuaded The Bucks Examiner to publish a submission on its behalf. It also contacted bodies such as the Royal Fine Arts Commission to garner support. Although there were letters to The Bucks Examiner criticising the Society for interfering with the Church's work, the Council twice refused the PCC's application, partly due to the swell of public opinion that was against it.
The PCC finally saw the error of its ways and separated the project into two parts – to upgrade the Church Rooms and to refurbish the interior of the Church itself. For the latter, the PCC employed the architect Robert Potter who took on board a number of the Society's ideas. He opened up the main interior space but left well alone the exterior.